Daytona Beach Charter Bus Company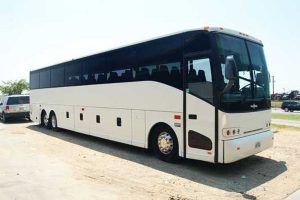 Welcome To Daytona! No matter your reason for visiting and regardless of the size of your group, we have you covered. We have a wide variety of charter buses, shuttle buses and coach buses that will get you and your entire group where you want to go. Finding a vehicle that meets your needs is our what we do. We have options for small and large groups alike. There are the shuttle and minibuses. These busses can accommodate anywhere from 15 to 40 passengers. As well as larger charter buses that can fit up to 55 to 60 passengers at a time. We take pride in making bus transportation service easy and convenient for everyone involved! No matter the "who" or the "what", we have the "how" covered! Our easy-to-use website makes your experience a pleasant and memorable one. You can request an instant online quote. And when you communicate with our expertly trained reservation staff, rest assured, you will be their number one priority.
Charter Bus Rentals
35 Passenger Charter Bus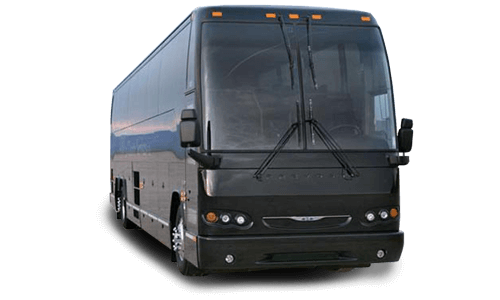 40 Passenger Charter Bus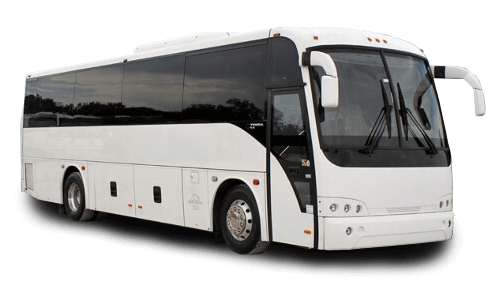 50 Passenger Charter Bus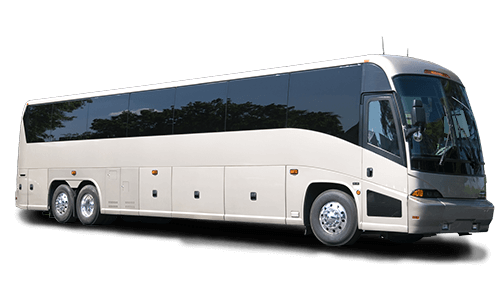 56 Passenger Charter Bus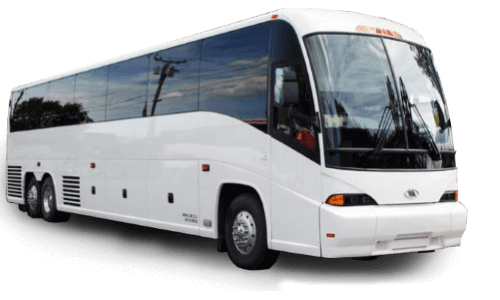 Daytona Beach Charter Bus Services
Group Transportation Services
Sports Team Transportation
55+ Senior Group Transportation
Contact Us - Free Instant Quote!
Daytona Beach is historically known for its beach, where the hard-packed sand allows motorized vehicles to drive on the beach in restricted areas. This hard-packed sand made Daytona Beach a mecca for motorsports. The old Daytona Beach Road Course hosted races for over 50 years. In 1959, this was replaced by Daytona International Speedway. The city is also the headquarters for NASCAR. Daytona Beach hosts large groups of out-of-towners throughout the year for various events. Speedweeks in early February when over 200,000 NASCAR fans come to attend the season-opening Daytona 500. Other events include the NASCAR Coke Zero Sugar 400 race in July, Bike Week in March, Biketoberfest in October, and the 24 Hours of Daytona endurance race held in January.
Daytona Beach, FL History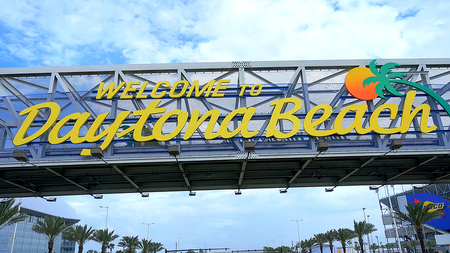 Rich in Native American history, Daytona Beach was also the home to several slave owners and plantations. Here they grew and harvested crops such as cotton, rice, and sugar cane. In 1871, Mathias Day Jr. of Mansfield, Ohio, purchased the 3,200-acre Orange Grove Plantation. He built a hotel and the town formed around it. In 1872, due to financial issues, Day lost title to his land. Regardless, the residents decided to name the city Daytona in his honor and incorporated the town in 1876. In 1889 by Henry M. Flagler began the railing boom of Florida and as a result, Daytona prospered. By the 4920s it has been named "The World's Most Famous Beach".
Daytona Beach, FL Popular Attractions
Daytona Beach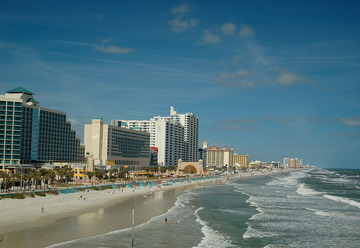 With more than 20 miles of scenic beaches, Daytona Beach is a prime destination for those looking to spend their vacation time relaxing in the Florida sun. Guests will also find that Daytona offers a variety of nearby lodging and dining options that range from exclusive and ultra-expensive to modest and affordable. There is a rather pricey day-use fee to enjoy the city's beaches, but if you go after official hours, you can avoid this charge altogether and put the money toward your dinner bill. The city's boardwalk is a popular place for an afternoon or evening stroll. Here you will find a variety of boutiques, eateries, and bars.
Address: 838 E International Speedway Blvd, Daytona Beach, FL 32118
Daytona International Speedway
The secondary obligatory stop is the Daytona International Speedway. For those whose adrenaline gets pumping with the roar of high-horsepower motors, the squeal of tires, and the roar of the crowd, it is a must-see attraction! For nearly sixty years, the speedway has been an international racing icon. Over the years, it has grown into one of the largest and most famous races in the world. The famous Dayton 500 takes place yearly in February. If you plan to visit the area then, you will need to plan ahead and make your lodging arrangements well in advance. The smaller racing events that take place at other times of the year are a lot less crowded and easier on your wallet.
Address: 1801 W International Speedway Blvd, Daytona Beach, FL 32114
Ponce de Leon Inlet Lighthouse
Standing nearly 200-feet tall and built in the late 1880s, Ponce de Leon Inlet Lighthouse spent a majority of its life providing a beacon to the area's mariners who often navigated the coast's tricky waters at night. Today the structure is a museum and historical site and remains one of the tallest lighthouses in the country. Wear comfy shoes if you plan on climbing the more than 200 steps to the top. If you manage, you will be rewarded with a fantastic view that those stuck on the ground will not get to enjoy. Conveniently located, the Museum of Arts and Sciences is one of the city's biggest draws and is set on nearly 100 acres of preserved land. The museum has an eclectic collection that includes historic Coca-Cola items, rail cars, and a few vintage automobiles that have been refurbished to near-original condition. Many of the museum's exhibits touch on art and culture alike. Their permanent exhibits include pieces with international influences representing the state's diverse immigrant groups, including Cuban, Asian, and African. The museum is open every day, and admission is charged at a very reasonable rate.
Address: 4931 S Peninsula Dr, Ponce Inlet, FL 32127
Daytona Lagoon
Daytona Lagoon is the epitome of amusement. Featuring a mini-golf course, laser-tag, amusement park-style rides, and a water park, it is located about ten minutes from the city's downtown area and is the kind of place that can occupy a family with children for hours on end. While admission is on the high end, when you consider all the amenities and activities that are included with the cost of admission, you may decide that it is reasonable. Various options are available for admission as well. Guests can pay by the day, the hour, or on a per-activity basis. For many visitors, few attractions are more memorable or spark more nostalgic memories than a few hours strolling along the boardwalk. Featuring amusement park-style rides like roller coasters, bumper cars, and even a Ferris wheel, the boardwalk is full of family-friendly activities that have been known to keep visitors occupied for hours. During the summer, the boardwalk turns into a live entertainment venue. Free concerts and even regularly scheduled fireworks are a regular occurrence making it an effective way to conserve those hard-earned travel dollars. There are plenty of shops, arcades, and dining options are available along the boardwalk as well.
Address: 601 Earl St, Daytona Beach, FL 32118
Riverfront Marketplace
Riverfront Marketplace is one of the city's most trendy and vibrant dining, shopping, and entertainment venues. It is also home to a popular farmers market featuring fresh seasonal produce and prepared food items. It is the perfect place for a morning or afternoon stroll, especially in the winter months when the weather is sunny and mild. The marketplace features a wide array of dining and shopping options, from exclusive and expensive to cheap and touristy. It is also a great place to relax with an afternoon cocktail or cup of coffee and watch the sunset.
Address: 60 E Orange Ave, Daytona Beach, FL 32114
Surfside Historic District
Daytona Beach's Surfside Historic District is a pleasant blend of the historic and contemporary and also includes a variety of shops, galleries, antique stores, and restaurants. It is a popular site for both locals and visitors alike looking to experience the essence of the historic city. The district is also a great place for amateur photographers to capture some one-of-a-kind landmarks. It is particularly popular for afternoon strolls, happy hours, and tasty meals at trendy restaurants.
Address: 1200 Main St, Daytona Beach, FL 32118
Romano Beachfront Park
Many of the bars and restaurants in the area feature live music as well, so ask around for a suggestion or two from locals or the staff of the hotel where you are staying. Featuring gazebos, barbecue grills, picnic areas, and playgrounds, Andy Romero Beachfront Park is the perfect place for families with kids. This is a great option for those who would rather not spend the day in the car hopping from one attraction to the next. It is located on South Atlantic Avenue in Ormond Beach, and with so many amenities, it should not come as any surprise that it can get quite crowded on the weekends. If that is a scene you would rather avoid, consider visiting during the week instead. The facilities and beach are regularly cleaned and well-maintained. There are restrooms and showers that make washing that sand and salt water away after a long day easy as well.
Address: 839 S Atlantic Ave, Ormond Beach, FL 32176
Daytona Arcade Museum
For many aging gamers, the golden age of arcades is a thing to be remembered fondly. For those visiting the area, there is no better place to do just that than the Daytona Arcade Museum. One admission ticket grants a full-day access, and you will not need to spend half your time changing dollars for coins or tokens, because the games are set to free play. The facility, part arcade and part museum, is the only one of its kind in the area. Considering all the museum has to offer, the cost of admission is reasonable, and the collection includes some of the world's first video games like Computer Space and Atari Tomb.
Address: 176 N Beach St, Daytona Beach, FL 32114
Tiger Bay State Forest
Tiger Bay State Forest is another such spot. Comprised of tens of thousands of acres, Tiger Bay State Forest includes a variety of natural environments. Swamps, forests, and pine islands support an amazing array of plants and animals, many of which are indigenous to the area. The acquisition for the land that would eventually become the state forest began in the late 1970s. Since that time, it has been home to many rare and endangered animals such as bald eagles and Florida black bears. Camping, kayaking, fishing, and hiking are all popular park activities, but keep in mind, if you plan on fishing, you will need a valid Florida fishing license whether you are a state resident or visitor.
Address: 4316 W International Speedway Blvd, Daytona Beach, FL 32124
After playing tourist all day, you will undoubtedly be hungry! Daytona offers classic Florida staples such as fresh seafood, zesty Italian, and spicey Latin options.
Daytona Beach Charter Bus Rentals
40 Passenger Charter Bus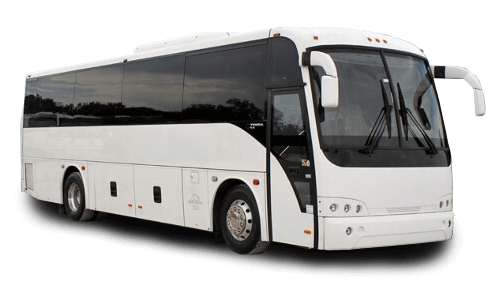 56 Passenger Charter Bus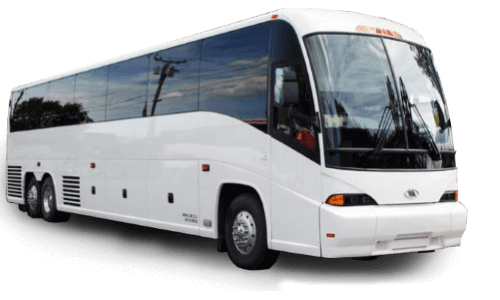 No matter what it is you want to do, West Palm Beach Party Bus can provide comfortable and stylish transportation. We pride ourselves in making the process of procuring transportation, be it for business or pleasure, simple and convenient. Our online quotes and reservation staff make this a reality.Our wide selection of charter buses, shuttle buses, and minibuses can accommodate groups from 20 to 50 plus passengers. If you are planning an event that requires transportation for 40 to 65 passengers, for example wedding transportation can often times be a stressful but we are experts in planning, logistics, and customer satisfaction. We have a wide selection of colors and styles available as well. Do not let transportation worries keep you from enjoying your stay in Weston. We will get you where you want to go safely and comfortably. Sit back and relax and enjoy the ride! We hope to see you soon!
---
Charter Bus Rental FAQ
How much does it cost to rent a charter bus?
Typically a charter bus rental can average $160 per hour to $200 per hour depending on many factors such as number of passengers and trip length.
How many people can you fit in a charter bus?
Charter Buses come in many different sizes from 50 passenger to 65 passengers.
How to rent a charter bus?
Renting a charter bus is a simple process that begins with a phone call. Contact us today for a free estimate on your trip.
Where can you take a charter Bus?
A Charter Bus is the perfect method of transportation for larger groups. Most Charter Buses can travel to stadiums, national parks, amusement parks, and much more!
35 Passenger Charter Bus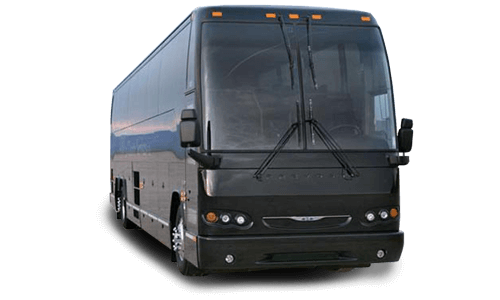 40 Passenger Charter Bus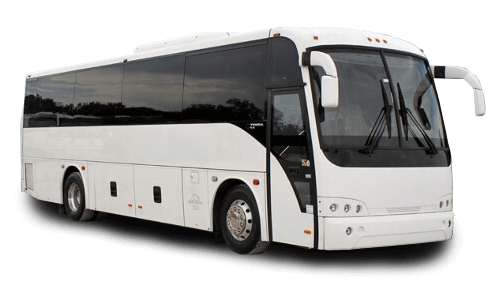 50 Passenger Charter Bus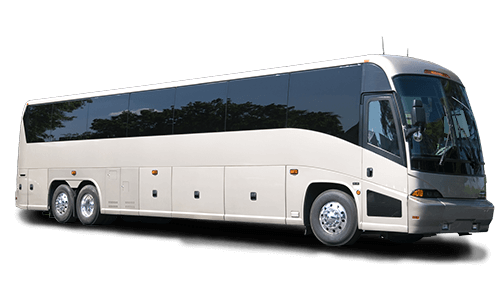 56 Passenger Charter Bus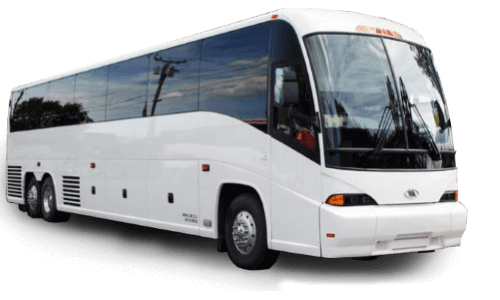 Daytona Beach Charter Bus Pricing
| Vehicle Type | Vehicle Passengers | Hourly Rates* |
| --- | --- | --- |
| 50 Passenger Charter Bus | Up To 50 | $130-$180 |
| 55 Passenger Charter Bus | Up To 55 | $180-$230 |
| 56 Passenger Charter Bus | Up To 56 | $230-$280 |
| 60 Passenger Charter Bus | Up To 60 | $280-$400 |